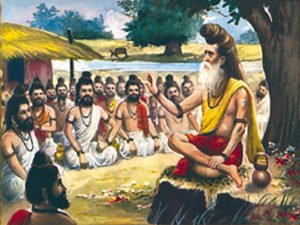 The word Gurukula recalls our ancient traditional system of imparting Education in India. In this system, the knowledge was passed by the Guru to the disciples in the Ashram life while living, learning and leading life together.
Eventually, as time rolled by, it has in its own course carved the way to the establishment of well-known Universities of its time named Nalanda and Takshashila. It even attracted students from different parts of the world. The system contributed immense benefits to society by providing persons with their total personality development as an evolved Human Being. It is this very aspect which enabled to blossom and cherish a great Indian Culture and Civilization which could successfully catapult our Country "Bharat" to the throne of "Jagad Guru ".
CONCEPT AND CHARACTERISTIC FEATURES OF GURUKULA EDUCATION
One of the main characteristic features of Gurukula Education is that the Guru/Teacher and the Disciple/Student live, learn, stay and cherish together as one family. The life is focused on learning and evolving with a touch of family life, feel, love, care, attention and affection.
The entire campus is like home close to nature with lots of vegetation around and serene atmosphere. A goshala in the campus adds aesthetic value. Finally a Gurukula represents a campus with required amenities for a simple life, bubbling with various activities, having participation of all inmates and focused not just teaching and learning aspects but also to develop moral values of life to be a vibrant and productive personality to the benefit of the society and the world at large for "VASUDAIVA KUTUMBAKAM" being world as one family.